International Newsletter of the HATVP – November 2021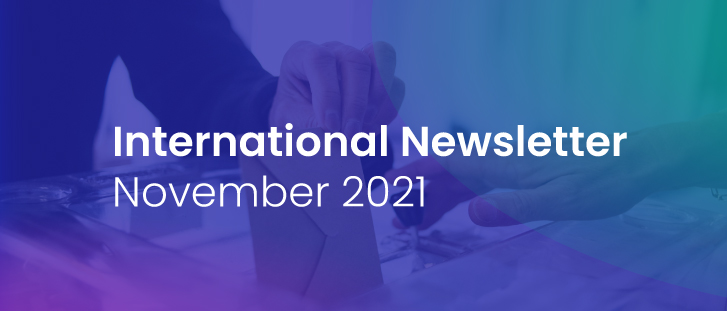 This November, Prime Minister Boris Johnson and his government were left reeling by a corruption and conflict-of-interest scandal affecting many members of the ruling Conservative party. Despite initially seeking to protect one of their own from suspension for a violation of the rules for combining lobbying and parliamentary activity, the Tories were obliged to pass a law restricting such practices.
An investigation by Libération journalists revealed that the practices of members of the European Court of Auditors were in breach of the ethical requirements for their roles. Its President, among others, was reported as having received housing allowances for a fictitious residence.
The Transparency International NGO has published several reports on the current state of the fight against corruption worldwide, sector by sector.

EUROPEAN UNION (EU)

An investigation by the daily newspaper Libération has shed light on unethical practices by certain members of the European Court of Auditors, prominently including its president, Klaus-Heiner Lehne. Despite the fact that members of the European Court of Auditors are obliged to be resident in the Grand Duchy of Luxembourg, almost a third of them are domiciled there in name only, while receiving a housing premium that can constitute up to 15% of their salary. The abuses are also reported as relating to undocumented entertainment expenses, absences not sanctioned by deductions from wages, and the private use of professional resources made available to members. Some are also said to be continuing political activities, which they are prohibited from doing in the interests of the independence of the Court. The European Parliament's budgetary control committee had already called for reforms and secured the creation of an attendance register. Such ethical breaches pose a serious risk to the legitimacy of the institution responsible for controlling the financial management of the European Union, and to European citizens' trust in the Court. (Libération, 26 November 2021)

The European Parliament's Committee on Budgetary Control is concerned about the scope of the tasks that the European executive entrusts to private consultants. Although the use of these external actors is commonplace in the European Commission, this practice has sharply increased in the European Parliament in recent years, as has its cost. The Commission has spent more than 462 million euros with the largest consulting firms, the "Big Four". Some of these contracts could be subject to conflict of interest, as these firms have been approached by the Commission in sectors in which they also advise private companies. The growing use of such consultants is explained by the quality of the advice provided, but also by the reduction in the Commission's staffing levels and the lack of specialisation of European officials and contractors due to staff turnover. In response, European Ombudsman Emily O'Reilly insisted on the need for past contracts to be subject to a rigorous verification process. (EU Observer, 29 November 2021)

The European Parliament's Committee on Budgetary Control is concerned about the scope of the tasks that the European executive entrusts to private consultants. Although the use of these external actors is commonplace in the European Commission, this practice has sharply increased in the European Parliament in recent years, as has its cost. The Commission has spent more than 462 million euros with the largest consulting firms, the "Big Four". Some of these contracts could be subject to conflict of interest, as these firms have been approached by the Commission in sectors in which they also advise private companies. The growing use of such consultants is explained by the quality of the advice provided, but also by the reduction in the Commission's staffing levels and the lack of specialisation of European officials and contractors due to staff turnover. In response, European Ombudsman Emily O'Reilly insisted on the need for past contracts to be subject to a rigorous verification process. (EU Observer, 29 November 2021)
GEOGRAPHIC AREAS

An anti-corruption operation carried out by the Ivorian authorities within the public sector resulted in the indictment of 43 members of the Ivorian security forces. This makes the police the most corrupt public administration body in Côte d'Ivoire, according to the Afrobarometer report of the independent pan-African network. The country is listed in 104th place in the ranking produced by Transparency International – an improvement over the previous decade. Yet 40% of Ivorians believe that corruption has worsened compared to previous years. The NGO condemns the "daily petty corruption" which is said to be widespread in all branches of the public sector, with a deeply destabilising impact on Ivorian society. (Le Monde, 5 November 2021)
MADAGASCAR
Transparency International's report on corruption in the health sector reveals the extent of this phenomenon in Madagascar, affecting the most isolated areas in particular. Health personnel are claimed to be passing on the cost of supplies to users, which they are forced to buy themselves, as a result of supply failures. Such corruption in the health sector could also be explained by low salaries and a lack of recognition from the state after two waves of the Covid-19 virus. The NGO recommends enhanced transparency, controls and better remuneration for caregivers. (Radio France Internationale, 20 November 2021)

Benjamin Netanyahu's corruption trial, which began last year while he was still prime minister, resumed in Jerusalem on 16 November. The trial sparked major pro- and anti-Netanyahu protests. The former Israeli prime minister and current opposition leader has been charged with three counts of corruption, fraud and breach of trust. In particular, the Israeli justice system suspects him of having granted favours to a major Israeli group in exchange for favourable media coverage. (La Libre, 16 November 2021)
The Government Defence Integrity Index, published in the annual report for Transparency International's "Defense and Security" program, warns of a "critical risk" of corruption in Moroccan defence institutions. The lack of transparency and external control of the defence sector are cited as being the main cause of this situation. From a regional perspective, the Middle East and North Africa are home to many countries with "very high" or "critical" defence corruption risks. The particularly tense geopolitical context in the region would explain the absence of a control and transparency mechanism. (Yabiladi, 23 November 2021)
Former Brazilian Olympic Committee President Carlos Nuzman has been jailed for 30 years for corruption, organised crime, money laundering and foreign currency flight in an investigation into buying votes for the awarding of the 2016 Olympic Games held in Rio de Janeiro. Leonardo Gryner, the director of operations for the 2016 Olympics, was also sentenced to 13 years and 10 months in prison for corruption and organised crime. The investigators drew on the information provided by Sergio Cabral – a former governor of the state of Rio de Janeiro imprisoned since 2016 for other corruption cases – as part of a plea bargain with the justice system. Carlos Nuzman appealed, and therefore remains free. (Ouest France, 26 November 2021)
CHILE
Chilean President Sebastian Piñera, suspected of conflicts of interest relating to the so-called "Pandora Papers" revelations, escapes impeachment. The Chamber of Deputies had initially approved his impeachment, but the Chilean Senate ultimately opposed it in a vote on November 16. A two-thirds majority was required, i.e. 29 votes; only 24 senators voted for impeachment. In this case, the president's children had sold a mining company to a friend of the president in 2010 for 152 million dollars. The sale contract included a clause suspending the payment of part of the sum in the event of the creation of an environmental protection zone in one of the sectors where mining was planned. (Le Monde, 17 November 2021)
The mandate of the governor of the US Central Bank, Jerome Powell, has been renewed despite a scandal over the stock market investments of certain Fed members. Two regional presidents of the Fed were forced to resign because of their activities on the equity and real estate markets – two categories of assets which have benefited considerably from the support policies implemented by the Fed. The US Central Bank has also reacted by strengthening the ethical obligations incumbent upon its members, who can no longer hold individual stocks or bonds and must obtain authorisation before investing. (Les Echos, 22 November 2021)

At the first meeting of the new Kyrgyz Anti-Corruption Council, Sadyr Japarov – the President of Kyrgyzstan, who came to power in 2020 following a revolution in response to fraudulent elections – urged Kyrgyz citizens to speak out about any acts of corruption they may be aware of. A bonus of 10% of the sum recovered by the State may be paid to the whistleblower if a special commission or a judge, when handing down a conviction, confirms that corruption was involved. (Courrier international, 26 November 2021)
SINGAPORE
Terry Xu, the editor of the independent online publication The Online Citizen, has been convicted of defaming the state. He had published an editorial alleging potential acts of bribery within the Singaporean government. Terry Xu and the author of the allegedly defamatory article face up to two years in prison. The Reporters Without Borders NGO has placed Singapore 160th in its world ranking on press freedom. (NewsAsia channel, 12 November 2021)

NOYB – the data protection organization founded by Austrian activist Max Schrems – makes corruption allegations against the Irish data protection authority responsible for examining its complaint about Facebook's consent policy. It criticizes the authority for asking it to sign a non-disclosure agreement, within one working day, as a condition for continuing to hear the case. Noyb complains of "procedural blackmail". The Irish authority justifies its request by citing a precedent in which NOYB had published one of its draft decisions. (Contexte, 24 November 2021)
UNITED KINGDOM
Boris Johnson and the British Conservative Party have come under heavy criticism, including accusations of corruption and breach of lobbying rules. Earlier this month, Conservative MP Owen Paterson was accused by the House of Commons cross-party ethics committee of having failed to comply with an MP's obligations by also engaging in consulting or lobbying activities. After abandoning a resolution to protect Paterson, the Conservative majority and government are facing numerous revelations of ethical breaches. It is claimed that nearly 50 Conservative MPs are combining their House of Commons activities with external consultancy roles, compromising their independence. Ministers are also blamed for having taken advantage of the flexibility of public procurement required during a pandemic in order to promote companies in which they hold interests. In reaction to these accusations, a government motion was passed on 17 November providing that ancillary activities, whether remunerated or not, can only be carried out within reasonable limits. (Le Parisien, 29 November 2021)
SWITZERLAND

The prosecution service of the Swiss Confederation has found three companies guilty of corruption charges in Africa. These Swiss subsidiaries of the Dutch group SBM Offshore, operating in the oil and gas industries sector – which is particularly exposed to the risk of corruption – failed to prevent acts of bribery by its employees towards officials in Angola, Equatorial Guinea and Nigeria between 2006 and 2012. Total payments are said to have amounted to more than 23 million Swiss francs, in exchange for contracts. The companies must pay 7 million Swiss francs, of which 2.8 million will be paid in the form of confiscation of illicit profits and 4.4 million as a fine. The OECD frequently criticises the maximum amount of the fine applicable to a company in Switzerland, deeming its limit of 5 million francs to have little effect as a deterrent. The group's former chairman and several former executives had already been convicted of corruption. (Le Temps, 23 November 2021)