International Newsletter of the HATVP – May 2021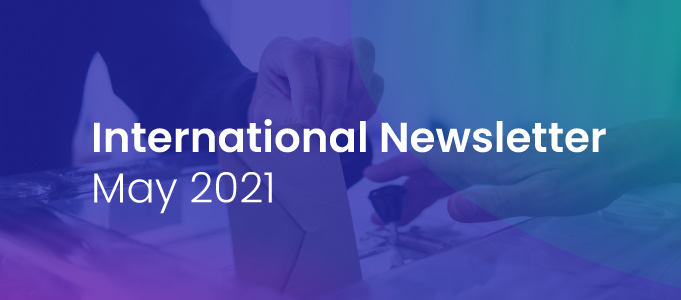 In May, British MPs question David Cameron over his lobbying for Greensill. In the United States, Senator Elizabeth Warren calls for restrictions on stock ownership by members of Congress and certain senior public officials.
In Brussels, MEPs make compromises over the powers of the future independent ethics body. In South Africa, the corruption trial of former head of state Jacob Zuma is once again postponed. In Ecuador, the newly elected president implements a code of ethics for the government.
European Union (EU)

European Ombudsman Emily O'Reilly has launched a wide-ranging enquiry into the Commission's handling of "revolving door" cases involving its staff. The survey is part of a comprehensive monitoring programme to verify how the EU administration implements the ethical obligations imposed on its staff when they move to the private sector. (European Ombudsman, 18 May 2021)

The new European ethics body is taking shape, but is not expected to have any decision-making power. As a result of compromises by MEPs, a body is being created that can initiate investigations, but not take binding decisions or implement sanctions. Opposition to such powers from the EPP and some members of the Renew group have led rapporteur Daniel Freund (Greens, Germany) to scale back his initial ambitions. The report is expected to be adopted in committee in the coming weeks before going to a plenary session. (EU Observer, 21 May 2021)

On 20 May 2021, the OECD published a report entitled "Lobbying in the 21st Century: Transparency, Integrity and Access". This report acknowledges the legitimacy of lobbying as a means of democratic participation in public policy making. However, the OECD is calling on governments to rethink their rules on interest representation so that they can be tailored to meet new challenges, such as the development of digital tools, foreign interference and civil society's aspirations for greater integrity. (OECD, 20 May 2021)
GEOGRAPHICAL AREAS

ALBANIA
Former public prosecutor Adriatik Llalla was sentenced on 20 May to two years' imprisonment in a corruption case for crimes including concealing illegal income and filing false tax returns. The former head of Albania's public prosecutor's office is the highest-ranking official to be sentenced by the special court dealing with corruption and organised crime cases, set up in 2019 as part of the judicial reforms called for by the European Union. (Le Figaro, 20 May 2021)
LUXEMBOURG
The Luxembourg Chamber of Deputies is expected to vote by the summer on the creation of a lobbying directory. This would require MPs to declare a list of people they have met in the course of their work on drawing up the law. The Financial Action Task Force (FATF) had invited Luxembourg to draw up a list of interactions between the business community and public officials. (Luxemburger Wort, 26 May 2021)
CZECH REPUBLIC
MEPs want the European Commission to investigate Czech Prime Minister Andrej Babis's conflicts of interest. They are demanding that the Prime Minister's company, Agrofert, repay all illicitly-received subsidies. MEPs find it unacceptable that the Prime Minister should be actively involved in negotiations on the Common Agricultural Policy while continuing to receive EU farm payments via Agrofert. (European Parliament, 26 May 2021)
UNITED KINGDOM

Health minister Matt Hancock has breached the code of conduct for ministers, says the government's ethics adviser. The Minister did not declare a significant shareholding in his sister's company, which had won a contract from the UK's National Health Service. However, the ethics counsellor found that Matt Hancock's error did not appear to be deliberate, and that the breach was minor. (Huffington Post, 28 May 2021)
Prime Minister Boris Johnson acted recklessly with regard to redecorations to his flat, but did not breach the code of conduct for ministers, according to the government's ethics adviser. The funding by private donors of renovation work on his 11 Downing Street home had caused controversy. (The Independent, 28 May 2021)
Former Prime Minister David Cameron and entrepreneur Lex Greensill were questioned by Parliament's Treasury Committee in early May. David Cameron is at the centre of a controversy over lobbying the government on behalf of Greensill. Appearing before MEPs, David Cameron – a lobbyist and shareholder in this fintech – maintained that he had done nothing wrong, defended the company's innovative model and denied any personal interest in his lobbying work. (Les Echos, 13 May 2021)

The trial of former South African President Jacob Zuma has been postponed again. The former president is facing 16 counts of fraud, corruption and racketeering related to the purchase of military equipment from five European arms companies in 1999, when he was vice-president. After a morning of hearings, the trial was adjourned to 19 July. (Le Monde, 17 May 2021)
DEMOCRATIC REPUBLIC OF CONGO
The lack of warning about the eruption of the Nyiragongo volcano highlights poor management of the Goma Vulcanological Observatory, including alleged corruption within it. On 22 May, 32 people died in the disaster. (Jeune Afrique, 26 May 2021)

The Transparency Maroc NGO's annual report reveals a weakening of the rule of law and an increase in the risk of systemic corruption due to the health crisis. Extraordinary government procurement measures have increased the risk of corruption, the report says. (Le Desk, 10 May 2021)
Ecuador's new president Guillermo Lasso has issued a decree adopting a code of ethics. This measure is part of his electoral programme to fight corruption. Among other things, the code prohibits the appointment of family members to public positions, regulates gifts and introduces greater transparency over the use of government property. (The Rio Times, 27 May 2021)
UNITED STATES

Joe Biden and his wife have released their tax returns. In doing so, the American president is reviving a fifty-year tradition which former president Donald Trump had always refused to follow. (Les Echos, 18 May 2021)
Senator Elizabeth Warren will put forward legislation to prohibit members of Congress and certain senior public officials from trading in the stock market. This will be the senator's third attempt: the measure was blocked in 2018 and 2020 in the then Republican-held Finance Committee. (Truthout, 25 May 2021)