International Newsletter of the HATVP – December 2021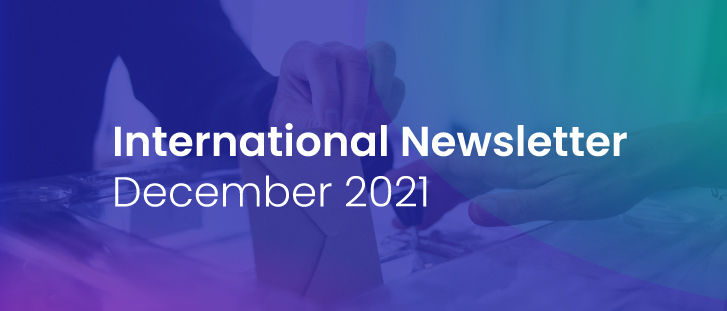 The European Court of Auditors has published its agenda for 2022 and plans to work on managing conflicts of interest relating to European funds and overseeing lobbying in Brussels.
Two international NGOs, the Corporate Europe Observatory and the Observatoire des multinationales, have published a report on potential situations of conflicts of interest between the public and private sectors, as part of the French Presidency of the Council of the European Union.
A statement by the US presidency has set out the first US anti-corruption strategy.
After several months of having been embroiled in a corruption case, Prime Minister Boris Johnson and the Conservative Party have been taken to task by the UK's Electoral Commission for failing to comply with requirements for declaring donations received.
EUROPEAN UNION

A second investigation by the Libération newspaper, following on from the revelations made during a first investigation published in November, alleges unethical practices by certain members of the European Union's Court of Justice and Court of Auditors, including Karel Pinxten (Belgium) and Nils Wahl (Sweden) in particular. The alleged abuses relate to the use of financial resources of professional utility for private purposes or missing/unjustified lobbying expenses, potentially raising issues of influence peddling and conflicts of interest. In addition, the German Christian Democrat (CDU) and President of the European Court of Auditors, Klaus-Heiner Lehne, appeared before the Committee on Budgetary Control (Cocobu) of the European Parliament with regard to such practices likely to weaken the institutions concerned. (Libération, 1 December 2021)
European Ombudsman Emily O'Reilly recently opened an investigation following a complaint by Alexander Fanta, a journalist from German news site Netzpolitik, who was seeking access to the conversation between Ursula von der Leyen and the CEO of Pfizer, via the WhatsApp application, by which means contracts for the supply of Covid-19 vaccines are said to have been negotiated. The European Commission declined to share these messages, as they were deemed to be ephemeral and therefore not in compliance with archiving criteria. However, the Ombudsman – who has not yet issued her final report – stated that "The decision to record a certain piece of information in the administration's document management system should, according to EU law, not be dependent on the medium – be it a letter, an email, a text or instant message – but on its content." (Contexte, 10 December 2021)

The European Parliament adopted a resolution, on 15 December 2021, on the evaluation of preventive measures for avoiding corruption, irregular spending and misuse of EU and national funds in case of emergency funds and crisis-related spending areas. Faced with the increased risk of fraud in the use of such funds, this resolution calls for an appropriate control framework to be maintained and transparency to be assured in order to limit the risks of corruption. (Europarl.europa.eu 15 December 2021)
The European Parliament presented the Sakharov Prize to Daria Navalnaya, daughter of Alexei Navalny, an opposition leader in Russia, detained in a forced labour colony. The President of the European Parliament, David Sassoli, praised the courage of Alexei Navalny – known for his commitment against corruption and human rights violations in Russia – and called for his immediate and unconditional release: "The fight against corruption is also a fight for the respect of universal human rights. It is certainly a fight for human dignity, for good governance and for the rule of law." (European Parliament, 15 December 2021)

The European Court of Auditors has published its work program for 2022, in which it lists its audit priorities. Among these priorities, the Court of Auditors plans to examine the issue of fraud in relation to payments made under the Common Agricultural Policy (CAP), as well as the question of the rule of law in the European Union. To increase the transparency of information on the final beneficiaries of European Union assistance, Member States will have access to a European data search tool. This tool aims to identify the risk of fraud by cross-checking information held on public databases. The Court also plans to examine the issue of conflicts of interest in European funds, on the scrutiny of lobbying in Brussels and on the use of external consultants by the European Commission. (European Court of Auditors, 15 December 2021)
NGO

A report from the Corporate Europe Observatory and the Observatoire des multinationales highlights potential situations of conflict of interest between the public and private sectors as part of the French Presidency of the Council of the European Union, which began on 1 January 2022. This will see the adoption of legislation for the future of Europe, in particular the Green Deal, the "Fit for 55" climate package, digital regulation and the future of recovery funds. According to the two NGOs, France is not ruling out a presidency sponsored by large companies, although these influences carry risks of conflicts of interest in the public decision-making process in Brussels. Such confusions between public and private interests can weaken the confidence of European citizens in the development of European policies. (Le Monde, 20 December 2021)
GEOGRAPHICAL AREAS

The Court of Cassation of the Democratic Republic of Congo has decided to provisionally release the former President of the National Assembly, Vital Kamerhe, aged 62, on bail of approximately $500,000, as a result of a critical medical situation. In April 2020, Vita Kamerhe was sentenced by the courts to 20 years in prison for embezzlement of public funds amounting to nearly 50 million dollars (44 million euros) allocated to the construction of prefabricated houses for military personnel and police. This sentence was reduced on appeal to 13 years in prison in June 2021. (RFI, 7 December 2021)
SOMALIA
Somali President Mohamed Abdullahi Mohamed has suspended his Prime Minister, Mohamed Hussein Roble, on grounds of corruption. The Prime Minister is accused of interfering in an investigation into a land-grabbing case. Tensions between the two politicians are a recurrent theme; the Prime Minister had recently accused the Somali president of "sabotaging the electoral process" following the decision of the Head of State to relieve him of the responsibility of organising the presidential elections and representatives of the upper and lower houses of Parliament. In addition, the president called for a consultative conference to be held, bringing together the federal government, the Somali states and the authorities of the capital Mogadishu, to appoint "a competent manager able to implement the electoral process". In April 2021, Mohamed Abdullahi Mohamed – President since 2017 – announced the extension of his term for two more years, despite the fact it had ended on February 8. In response, the United States declared that it was "deeply concerned about the persistent delays and procedural irregularities which undermine the credibility of the electoral process." (France24 27 December 2021)

Libyan Attorney General Siddiq al-Sour has issued a pre-trial detention order against Libyan Culture Minister Mabrouka Toughi in an investigation for corruption and embezzlement of public funds. Toughi is suspected of having been involved in the falsification of official documents in order to make public expenditure review and monitoring procedures less transparent. According to the prosecution, the documents in question relate to the performance of maintenance work in public buildings which had been carried out a year earlier. This case comes about ten days after the preventive detention of the Minister of Education, Moussa al-Megarief, within the scope of an investigation for "negligence in the performance of his duties." According to the Attorney General, the minister is said to have contributed to a general shortage of textbooks in the country. (The Libya Observer, 30 December 2021)
The United States is seeking to make the fight against corruption an issue of national security. A communiqué from the Presidency introduced a document on the first American strategy to counter corruption. This strategy was published ahead of the Summit for Democracy, held by US President Joe Biden on December 9 and 10, 2021, which virtually brought together 110 heads of state. The strategy is based on a whole-government approach aimed at strengthening the fight against corruption and focusing on a better understanding of these threats. In particular, it provides additional measures to reduce the ability of bad actors to use financial systems (US and international) to conceal assets and launder the proceeds of corruption. Finally, federal departments and agencies will report annually to the President on progress made against the objectives set by the strategy. (Le Monde, 9 December 2021)
HONDURAS
In Honduras, Xiomara Castro – the candidate for the anti-corruption Liberty and Refoundation Party (Libre) – obtained a majority in the presidential election (with nearly 52% of the vote) following a campaign marked by political violence. It was an unprecedented election, breaking with a hundred years of bipartisanship between the National Party (PN) and the Liberal Party (PL), with the highest turnout in the country's recent history (69%). (The Economist, 4 December 2021)

South Korean Justice Minister Park Beom-kye announced that former South Korean President Park Geun-hye – who had been sentenced to 20 years in prison for corruption, abuse of power, violation of election campaign law, and most notably for having received 3.3 billion won (2.6 million euros) embezzled from the coffers of the intelligence services, has been pardoned. The amnesty will take effect on 31 December 2021 in the interests of national unity. Current South Korean President Moon Jae-in, who rose to power following the impeachment of Park Geun-hye in 2017, explained that "given the many challenges we face, national unity and humble inclusion are more urgent than anything." The declining state of health of the former president, who has been hospitalised several times this year, also motivated this amnesty decision. South Korea is known for the severity of its justice system when dealing with former heads of state. All four of the most recent South Korean presidents have been sentenced following their term of office. (Le Figaro, 31 December 2021)

In Germany, a coalition agreement aimed at strengthening the means of combating corruption has been concluded between social democratic, environmentalist and liberal parties. This agreement addresses several points, including the strengthening of the law on the register of lobbyists in order to include their contacts with the ministries. LONG Transparency International Germany welcomed this agreement, which allows more transparency in the German administration in respect of lobbyists, and also offers enhanced protection for whistleblowers and in the fight against money laundering. In addition, the coalition undertakes to report comprehensively on third-party influence in relation to the development of bills and proposals of law emanating from the federal government and the Bundestag within the limits of the freedom of mandate (i.e. the normative footprint). In addition, the new German government wants to tighten regulations on party funding, in particular by making declarations of donations compulsory, immediately for donations over 35,000 euros and with a delay for amounts exceeding 7,500 euros. Lastly, the coalition is seeking to protect whistleblowers not only when they report violations of European law, but also "when they report material regulatory violations or other material professional misconduct, the disclosure of which is of particular public interest". (Contexte, 17 December 2021)
UNITED KINGDOM

In the UK, Prime Minister and Conservative Party leader Boris Johnson has been taken to task by the UK's Electoral Commission, which regulates political party accounts, over renovations to his Downing Street accommodation, financed by a private donation. The Commission concluded that the value of the donation received, from Huntswood Associates Limited – a company run by someone close to the party in October 2020 – amounted to more than 79,000 euros (67,801 pounds). As a result, the Electoral Commission fined the Conservative Party nearly 17,800 euros (16,250 pounds) for failing to report the total amount of donations received. (The Guardian, 9 December 2021)
ALBANIA
Former Albanian environment minister Lefter Koka was arrested on charges of abuse of power, corruption and money laundering by the Special Prosecutor's Office against Corruption and Organised Crime (SPAK). He is accused of embezzlement (3.7 million euros) for having given preferential treatment to two companies on the concession of the waste incineration market in the town of Elbasan, in the centre of the country. These breaches directly affect the interests of the state and, according to the Albanian criminal code, can be punished by up to 12 years' imprisonment. Police also arrested a former public prosecutor, Adriatik Llalla, in Italy following his conviction for concealing illicit income. (France Culture, 18 December 2021)
AUSTRIA
Former Austrian Chancellor and leader of the People's Party (ÖVP, conservative) Sebastian Kurz has announced his retirement from politics due to the birth of his first child. At 35, he was forced to resign from the position of Chancellor on October 9 after corruption charges against him. The Austrian anti-corruption prosecution is carrying out two parallel investigations against Sebastian Kurz, who is suspected of having given false testimony before Parliament and distorted polls in his favour, the latter having been financed by the taxpayer. The former Chancellor has not yet been indicted. (Le Monde, 2 December 2021)
An anti-corruption government has been formed in Bulgaria around the new Prime Minister, Kiril Petkov, approved by the Bulgarian Parliament. According to Mr Kiril Petkov, the mandate of his government will be based on a strict anti-corruption policy. The Bulgarian government's three main objectives are the fight against corruption, the reform of the judicial system and the modernisation of the health system. These goals should also help the country, which has been severely affected by the health crisis and has one of the highest death rates in the world. (Les Échos, 13 December 2021)