International newsletter of the HATVP – April 2021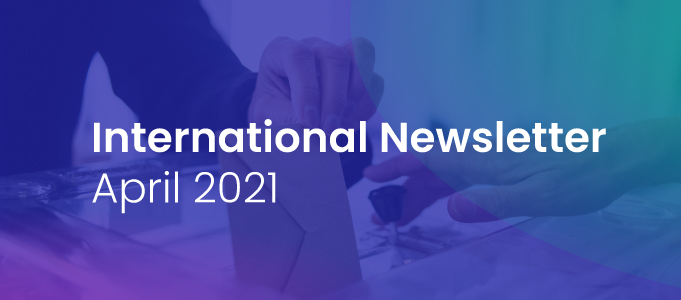 April 2021 has been marked by numerous revelations about lobbying in the UK, involving former and current Prime Ministers David Cameron and Boris Johnson. Reforms to transparency rules are on the horizon. In the US, spending on lobbying has been adjusting to the new Biden era since January.
The Council of Europe is warning of heightened risks of conflicts of interest and corruption linked to the emergency response to the pandemic. At the same time, the European Commission is considering strengthening its rules on conflicts of interest in the awarding of public contracts to consultants.
In Israel, Brazil and Bulgaria, trials and suspicions of corruption are having a direct impact on the electoral process. Meanwhile, the Vatican is adopting unprecedented transparency rules in the fight against corruption.
EUROPEAN UNION


The EU executive has decided that Czech Prime Minister Andrej Babis has a conflict of interest through his company Agrofert. The Prime Minister's role in negotiations on European agricultural subsidies is raising issues over his continued control over his agricultural conglomerate Agrofert. The Prime Minister's company is expected to refund these subsidies to the Czech authorities, but they have not yet made a formal request for the funds. (Politico, 26 April 2021, RTBF, 24 April 2021)
The European Commission is considering tightening its rules on conflicts of interest in its contractual relations with consultants. This follows criticism from the European Parliament and recommendations made by the European Ombudsman. External contractors may be required to declare potential conflicts of interest. MEP Philippe Lamberts wants the definition of conflict of interest to be changed, and seeks to remove consultants from public policy-making processes. (Euractiv, 29 April 2021)

The reform of the EU lobby transparency register was approved on 27 April by the European Parliament plenary session and by the College of Commissioners. The Council is expected to adopt it in May. Following four and a half years of discussions, this inter-institutional agreement tightens the rules for registering interest representatives and for publishing meetings with lobbyists in the Council. (Contexte, 28 April 2021)
GRECO, the Council of Europe's Group of States against Corruption, published its 21st annual report on 15 April. The report highlights the risks of corruption arising from extraordinary measures to combat the pandemic. Emergency measures have led to a concentration of power and dispensations from fundamental rights that increase the risk of corruption. Issues of particular concern are public procurement systems, especially with regard to conflicts of interest and the role of lobbying in the health sector. (Council of Europe, 15 April 2021)
GEOGRAPHICAL AREAS

After the failure of the outgoing government to form a government in early April, the ITN anti-corruption party, which had become the second most powerful parliamentary party, gave up its bid for power due to a lack of allies with sufficient integrity. New elections are on the horizon. (Les Echos, 28 April 2021)
PORTUGAL
Former Prime Minister José Socrates went on trial on 9 April for money laundering. However, the corruption charges against him were dismissed. Prosecutors suspected that the former Prime Minister received some €34 million in return for favours to three economic groups during his leadership of Portugal from 2005 to 2011. (France 24, 9 April 2021)
Former Prime Minister David Cameron is at the heart of a case that is exposing the limits of lobbying regulations in the UK. David Cameron allegedly tried to influence the government for the benefit of Greensill, which has led to the opening of an independent enquiry by the UK government. David Cameron is said to have granted privileged access to the head of Greensill while he was in government, and then approached ministers in the Johnson government to give the firm access to the national loan scheme in response to the pandemic. But David Cameron was not required to declare his work for Greensill to ACOBA – the committee that advises on the retraining of members of government – as the two-year cooling-off period had expired. The UK Parliament's register of interest representatives does not track David Cameron's activities, either, as it only considers the activities of consultant lobbyists and not lobbyists directly employed by companies, as in the case of David Cameron. (Politico, 13 April 2021, Contexte, 21 April 2021)
Current Prime Minister Boris Johnson is also being criticised for his SMS communications with billionaire James Dyson. The Prime Minister is said to have promised the head of Dyson changes in tax legislation in exchange for the production of breathing apparatus for the pandemic. The Prime Minister refused to apologise, saying that he had acted to ensure that the country had sufficient access to breathing apparatus. (The Guardian, 21 April 2021)
A Parliamentary committee is investigating the funding of decoration work undertaken by Boris Johnson on his 11 Downing Street flat. The committee's investigations focus more broadly on the Conservative Party's compliance with political funding rules. This case raises questions about the Prime Minister's power of veto over ethics investigations, as he has the ability to decide on sanctions for his own actions. (BBC, 29 April 2021)
Pope Francis unveiled new anti-corruption rules on Thursday 29 April. Roman Curia officials will have to fill in a declaration of interests certifying that they have never been convicted of illegal activities, and do not possess any funds from illegal activities. The pontiff has also banned all Vatican employees from receiving gifts of more than 40 euros. (La Croix, 29 April 2021)

The corruption trial of Benyamin Netanyahu resumed on 5 April. The prosecutor accused him of abusing his power for his personal business interests. He is the first head of government in Israel's history to face criminal charges for corruption while still in office. The Israeli prime minister is strongly contesting charges of corruption, fraud and breach of trust on three counts. (Le Monde, 5 April 2021)
House of Representatives member Matt Gaetz is at the centre of a corruption case for accepting gifts in exchange for political favours. In particular, the Florida congressman is said to have taken a trip to the Bahamas in 2018 with young women, paid for by cannabis industrialists. Matt Gaetz has been a defender of the legalisation of this industry. (CNN, 23 April 2021)
The petrochemical industries spent record sums of money on lobbying during the Trump era as federal agencies and lawmakers sought to regulate per- and polyfluoroalkyl substances (PFAS). Strategies to slow down the passage of new legislation were intended to maintain doubts about the harmfulness of PFAS to health, in line with similar tactics used in the oil or tobacco industry. These sums are expected to rise again with the new framework measures championed by President Joe Biden. (The Guardian, 26 April 2021)
Amazon and Google spent millions of dollars on lobbying in the first quarter of 2021, as members of Congress examined possible anti-competitive practices. Google spent $2.7 million between January and March. This is an increase of 49% compared to the same period a year earlier. (Bloomberg, 23 April 2021)
BRAZIL
On Thursday 15 April, Brazil's Supreme Court confirmed that former President Luiz Ignacio Lula da Silva's corruption convictions had been overturned. This means he is eligible to run in the 2022 presidential elections. The Supreme Court's decision does not, however, mean that the former trade unionist is in the clear. Lula had been accused of taking bribes to favour construction companies in the awarding of public contracts, linked to the state oil company Petrobras, as part of the "Operation Car Wash" investigation. (Ouest France, 16 April 2021)

Najib Razak's appeal trial opened on Monday 5 April in Malaysia. The former Malaysian prime minister was sentenced to twelve years in prison for corruption in a massive scandal linked to the 1MDB sovereign wealth fund. Transactions from this fund to the accounts of the former Prime Minister amount to 8.4 million euros. (France 24, 5 April 2021)