The High Authority takes part in a workshop on the EU's transparency register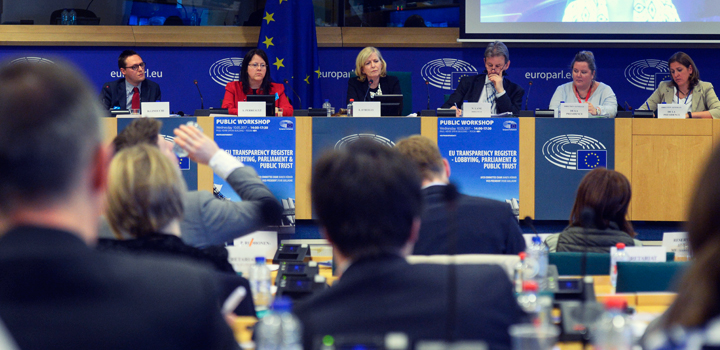 On May, 10th 2017 Mr David Ginocchi, Head of the Legal and Studies Department of the High Authority for the Transparency of Public Life, participated in a workshop organized by the European Parliament on the European Union transparency register, lobbying regulation and public trust in Parliament.
This meeting took place within the framework of the current review of the institutional agreement of September, 19th 2014, which created a register of transparency for organizations and individuals acting as self-employed who participate in the preparation and implementation of EU policies, in order to extend the register to the three European institutions (Parliament, Commission and Council), while making registration for lobbyists a prerequisite for contacts with public officials within the Union.
Mr. Ginocchi present the new French legal framework resulting from the "Sapin II" law of December, 9th 2016 and the first stages of implementation of the register of representatives of interests by the High Authority. He also discussed the future stages of implementation, with the creation of an e-filing application that will allow interest representatives to fulfill their reporting obligations and the launch of a public consultation. The public consultation is an essential instrument, also used by the European parliament in the context of the revision of the EU register. The High Authority will rely on contributions to draft its first guidelines on the matter, which will accompany the implementation of the register on 1 July 2017.
The discussion was very enlightening for the High Authority, which was able to share with institutions that have been managing similar registers for several years. The feedback from the Canadian registry, presented by Commissioner of Lobbying Karen Shepherd or the presentation of the law on lobbying regulation in Ireland by Mrs. Sherry Perrault, provided food for thought for the High Authority.
Finally, the workshop provided an opportunity to discuss more widely the issue of lobbying regulation across Europe. Mrs Sylvie Guillaume, Vice-President of the Parliament in charge of transparency and register matters, closed the workshop by recalling the importance of the development of transparency in the European institutions, for which the revision of the institutional agreement on the transparency register should be an important step.